Hey there, new parents! Is your little one ready for the exciting milestone of starting solids? It can be a bit daunting to navigate, but fear not, we've got a complete guide to help you and your baby on this journey.
First Things First: Is Your Baby Ready?
Before diving in, it's important to make sure your baby is ready for solids. Signs of readiness include:
Sitting up with support and having good head control
Show interest in food by opening their mouth or reaching for food
Losing the tongue-thrust reflex, meaning they no longer instinctively push food out of their mouth with their tongue
Being at least 4 months old (some pediatricians recommend waiting until 6 months old)
If your baby is showing these signs of readiness, congratulations, it's time for some solids!
Introducing Solids: What to Start With
When it comes to introducing solids, there are a few different approaches you can take. Some parents like to start with single-grain cereals, while others prefer to go straight to pureed fruits and vegetables.
Whatever route you choose, it's important to introduce one food at a time and wait a few days between introducing new foods. This will help you identify any potential allergies or sensitivities your baby may have.
A Few Recipe Ideas
1. Sweet Potato Puree
Ingredients:
1 sweet potato
Water or breastmilk
Instructions:
Peel and chop the sweet potato into small pieces.
Steam the sweet potato until soft.
Puree the sweet potato in a blender or food processor, adding water or breastmilk as needed to reach the desired consistency.
Serve immediately or store in the refrigerator for up to 3 days.
2. Avocado and Banana Mash
Ingredients:
1 ripe avocado
1 ripe banana
Instructions:
Mash the avocado and banana together in a bowl until smooth.
Serve immediately or store in the refrigerator for up to 3 days.
Tips for Success
Now that you've got some recipe ideas, here are a few tips to help make the transition to solids a success:
Start with small amounts - your baby's stomach is still very small and they won't be eating much in the beginning.
Allow your baby to explore the food - let them touch it, smell it, and even play with it a little bit.
Be patient - your baby may not immediately take to solids and that's okay. Keep offering and keep trying.
Stay relaxed - starting solids is a big milestone, but it's important to keep it fun and relaxed for both you and your baby.
Remember, every baby is different and there is no one "right" way to approach starting solids. Trust your instincts and enjoy this new adventure with your little one!
If you are searching about Solid Food Chart for Babies Aged 4 months through 12 months - Find age you've came to the right place. We have 35 Pictures about Solid Food Chart for Babies Aged 4 months through 12 months - Find age like Solid Feeding Stages Guide for Babies | Dr. Brown's Baby, Schedule for Introducing Baby's First Foods - 5 Weeks of First Solid and also Starting baby on solids: The complete guide | Starting solids baby. Read more:
Solid Food Chart For Babies Aged 4 Months Through 12 Months - Find Age
www.pinterest.ca
baby chart month schedule solids food solid months feeding introducing foods age old babies introduce stages when printable first guide
Starting Solids With Your Baby | Virginia Family Nutrition Program
eatsmartmovemoreva.org
solids starting baby foods pureed veggies fruits ones little good first
How To Start Baby's First Solid Foods | Baby Solid Food, Baby Feeding
www.pinterest.com
acixy babyfeeding solids
Love For Your Newborn Baby Is The Greatest Gift That You Can Give Your
www.pinterest.com
baby foods first food feeding chart introducing when aboutkidshealth solid solids infant ca cues babies newborn weaning textures pdf child
How Many Months Can You Start Feeding Baby Food - FoodsTrue
foodstrue.harga.click
introducing eat puree solids verywellfamily pureed
When Do Babies Start Eating Solid Food? | Feeding Baby Solids, Baby
www.pinterest.com
solids
Starting Baby On Solids: The Complete Guide | Starting Solids Baby
www.pinterest.com
solids feeding
The Complete Guide To Starting Solids - Mom To Mom Nutrition
momtomomnutrition.com
solids starting guide baby complete facts nutrition solid foods start feeding should signs fast
Baby Feeding Cheat Sheet - Today's Parent | Baby Feeding, Parents Baby
www.pinterest.com
feeding baby sheet cheat food chart parent guide age feed infographic sheets parenting start when parents mom tips print visit
When You Start Feeding Your Baby With Solids | Danalac® Infant Formula
www.danalac.com
feeding solids danalac
Baby Feeding Chart: When (& How) To Start Your Baby On Solids - StudyPK

www.studypk.com
baby feeding chart when solids food studypk start guide foods babies schedule
How To Start Feeding Your Baby Solids | Parents - YouTube
www.youtube.com
Solid Feeding Stages Guide For Babies | Dr. Brown's Baby
www.drbrownsbaby.com
stages solids drbrownsbaby formula
Feeding Your Baby : Introducing Solids & Beyond - Rideau Family Health Team
www.rideaufht.ca
introducing solids
S Your Baby Ready For Starting Solids? Make Sure They're Showing The
www.pinterest.com
solids
Baby Feeding Board Breastfeeding | Baby Solid Food, Baby Feeding Chart
www.pinterest.com
feeding solids zaubertricks whattoexpect introducing ounces babycenter breastmilk
6 Months Old Baby Food Chart Along With Recipes. | Caring Momster
caringmomster.in
momsters
Baby Food Chart | Baby Food Recipes, Healthy Baby Food, Baby First Foods
www.pinterest.com
solids guideline weaning aap babys puree stage dijunga humajir
Introducing Solids: Why, When, What And How In 2020 | Introducing
www.pinterest.com
asertif sifat solids kecil menanamkan manfaat sejak obezitatea infantila dintre legatura copilul raisingchildren imun
When To Start Solids: Six Signs Your Baby Is Ready (With Images
www.pinterest.com
solids
What To Start Feeding Toddlers—Introducing Baby Solids

www.similac.com
baby food basics formula beyond tips similac
What Age Should You Start Feeding Solid Foods To Your Baby - Chronicles
www.babywisemom.com
start feeding age foods solid should baby
How To Get Your Baby Started On Solids - Marissamccormick.com | Baby
www.pinterest.com
solids
Schedule For Introducing Baby's First Foods - 5 Weeks Of First Solid
www.pinterest.com
solids baby food introducing chart solid feeding schedule infant starting babies guide month foods old charts when vegetables meat months
When To Start Baby On Solids And Starting Solids Tips | Introduce
www.pinterest.com
solids
A Guide To Feeding Baby Solids: When, What & How Much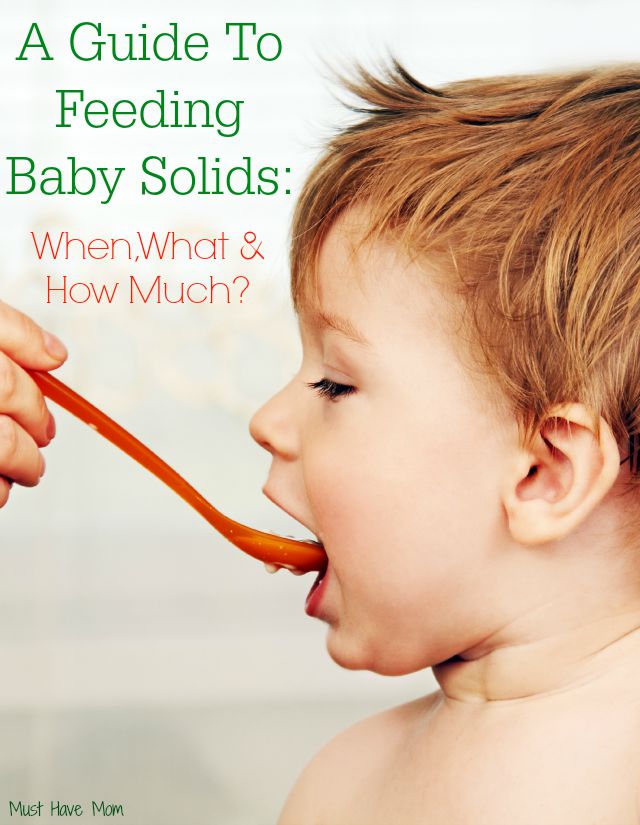 musthavemom.com
feeding solids
Starting Baby On Solids: The Complete Guide | Starting Solids Baby
www.pinterest.com
solids baby starting feeding complete guide solid choose board introduce when
Age Guide To Introducing Solids | Baby Food Chart, Homemade Baby, Baby
www.pinterest.com
baby solids chart food introducing age
Carrot Juice | Recipe | Baby Food Timeline, Baby Food Recipes, Starting
br.pinterest.com
solids feeding complete puree
A Quick And Easy Guide To Feeding A Baby For The Entire First Year
www.pinterest.ca
baby solids food start starting when guide feeding year first solid babies choose board healthy
Feeding Baby Solids At 4 Months - Yahoo Image Search Results | Baby
www.pinterest.com
feeding solids
Indian Baby Food Chart: 0-12 Months (With Feeding Tips) - Babymommytime
www.babymommytime.com
babymommytime
When To Start Feeding Baby Cereal / When And How To Start Solids For Baby
www.shishuworld.com
baby start when solids feeding cereal
How To Successfully Start Your Child On Solids - YukToYum
yuktoyum.com.au
solids
This Is When You Should Start Feeding Your Baby Solid Foods | Baby
www.pinterest.com
feeding solids
Stages solids drbrownsbaby formula. How to get your baby started on solids. Solids starting guide baby complete facts nutrition solid foods start feeding should signs fast