Introducing the ultimate Easter indulgence, Nutella Cream Eggs! These mouth-watering treats are the perfect combination of rich chocolate and smooth creamy Nutella, creating a taste sensation like no other.
Nutella Cream Eggs
Indulge in the sweet decadence of these Nutella Cream Eggs. These beautiful eggs not only look gorgeous but they also taste divine. Get ready for the ultimate temptation.
Ingredients
1 cup Nutella
1/2 cup heavy cream
1/2 cup unsalted butter, softened
1 1/2 cups powdered sugar
1/8 teaspoon salt
1 teaspoon vanilla extract
1/4 teaspoon almond extract
16 ounces dark chocolate
1 tablespoon coconut oil
Powdered sugar, for dusting
Instructions
Begin by melting the chocolate together with the coconut oil and set aside.
In a mixer, whisk together the Nutella, softened butter, heavy cream, powdered sugar, salt, vanilla extract and almond extract until smooth and creamy.
Place the mixture in the fridge to set for up to one hour.
Using a cookie scoop, scoop out the mixture and place on a lined baking sheet. Form the mixture into eggs by rolling it in your hands and shape with a spoon.
Place the eggs in the freezer to chill for 20-30 minutes.
Dip each egg into the melted chocolate mixture and place back onto the baking sheet.
Place the Nutella Cream Eggs in the fridge to set for at least 20-30 minutes or until the chocolate coating is firm.
Dust with powdered sugar if desired.
Enjoy your delicious Nutella Cream Eggs!
Another View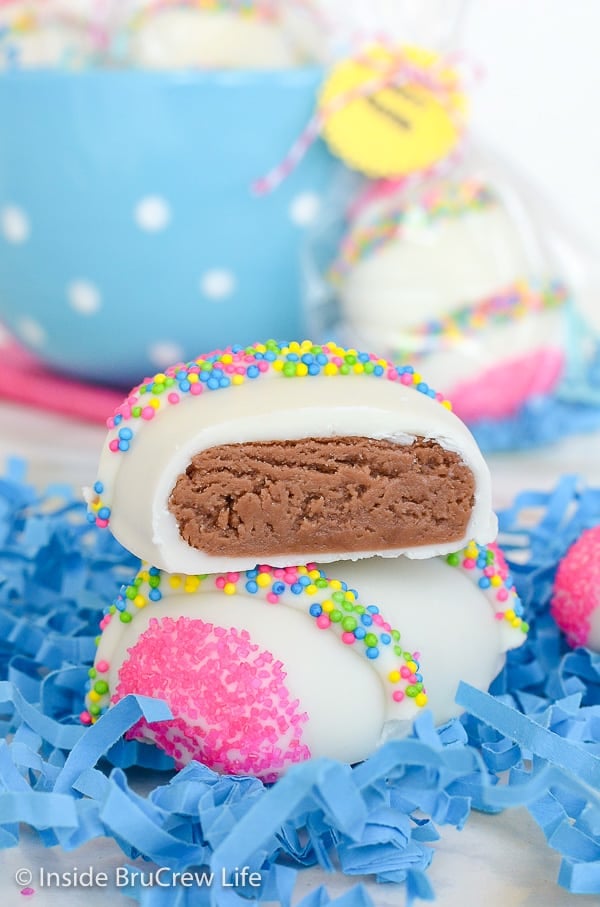 If you're looking for the perfect Easter sweet treat that is guaranteed to impress, look no further than these Nutella Cream Eggs! Indulge in the divine chocolate and Nutella combination and take your taste buds on a journey they'll never forget.